Easy Vanilla Cupcakes with vanilla frosting are such a classic treat for birthdays and perfect for any celebratory occasions. These moist cupcakes with their creamy crown of frosting will surely bring a smile to your face!
Cakes are the best way to celebrate or even just to end a meal! If you need some ideas to make your celebration perfect, try this Red Velvet Cake Recipe, this Perfect Tres Leche Cake, or this Homemade Strawberry Cake.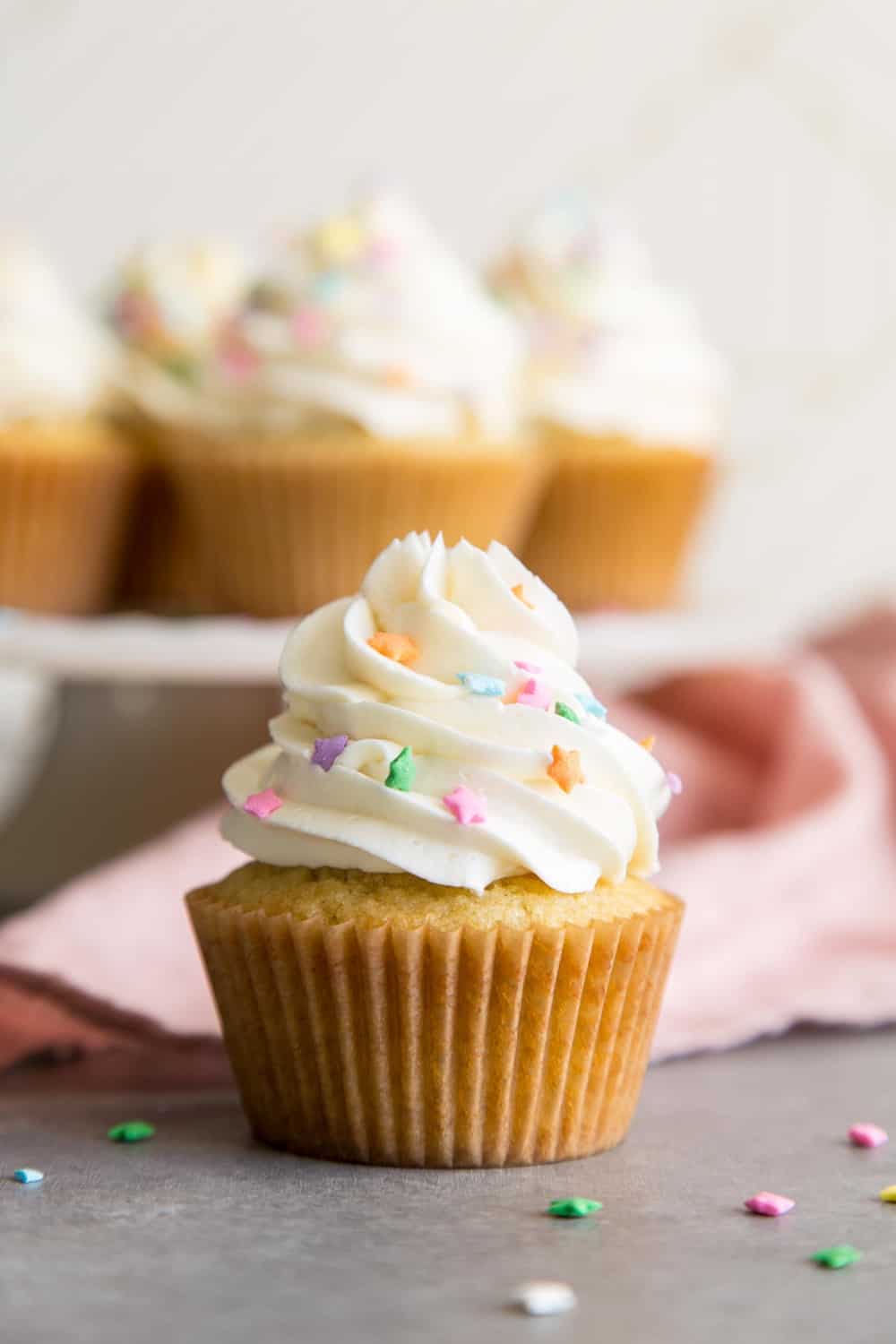 Vanilla Cupcakes
Vanilla cupcakes with vanilla frosting is a simple and classic flavor combo. You can add festive sprinkles to these cupcakes, tailored to the occasion you?re celebrating.
What you need to make this vanilla cupcake recipe
For the cupcakes
Flour ? I typically use all-purpose flour for all of my recipes but you can use cake flour as well.
Granulated sugar to sweeten.
Kosher salt ? we cook with Kosher salt, so that?s what I usually have in my kitchen. If you?re using table salt, reduce the amount by half.
Baking powder and baking soda for leavening.
Sour cream is one of our liquid ingredients. You can also substitute with yogurt.
Vegetable oil keeps the cupcakes moist. Canola oil will also work. Olive oil could work but I don?t recommend it, since it imparts a pretty strong flavor which could overpower the vanilla.
Just 1 egg to bind everything together.
Pure vanilla extract ? be sure to use pure vanilla extract since this is the main flavor of the cupcakes. You could also use a whole vanilla bean in place of the vanilla extract.
For the frosting
Unsalted butter ? always use unsalted so you can control the amount of salt going into the recipe.
Cream ? some buttercream frosting recipes call for milk but I like cream for its richness.
Powdered sugar ? we use powdered sugar here for a smooth and creamy frosting without any sugar crystals.
Pure vanilla extract ? again, be sure to use pure vanilla extract for the best flavor or use real vanilla bean.
Salt ? just a little bit cuts through the sweetness and gives the frosting another flavor dimension, but not too much that it becomes salty.
How to make vanilla cupcakes with vanilla buttercream
The cupcake batter
Beat together the wet ingredients, then fold in the dry ingredients to form the batter.
Divide the cupcake batter using a large ice cream scoop.
Bake until a toothpick inserted in the center comes out clean with just a few crumbs attached.
The buttercream frosting
Vanilla buttercream frosting is a classic on vanilla cupcakes. This particular frosting is super easy to make. Just put all the ingredients into your stand mixer bowl and beat until white and fluffy.
Another classic frosting that is also perfect on these vanilla cupcakes is a chocolate Swiss meringue buttercream, a little bit more involved to make, but so delicious!
Other tips for the best vanilla cupcakes
Sift your flour to get rid of any big lumps for a smooth cake batter.
This cupcake batter is quite thick, so fold with a spatula instead of mixing with a whisk.
Always use pure vanilla extract or whole vanilla bean for the best vanilla flavor.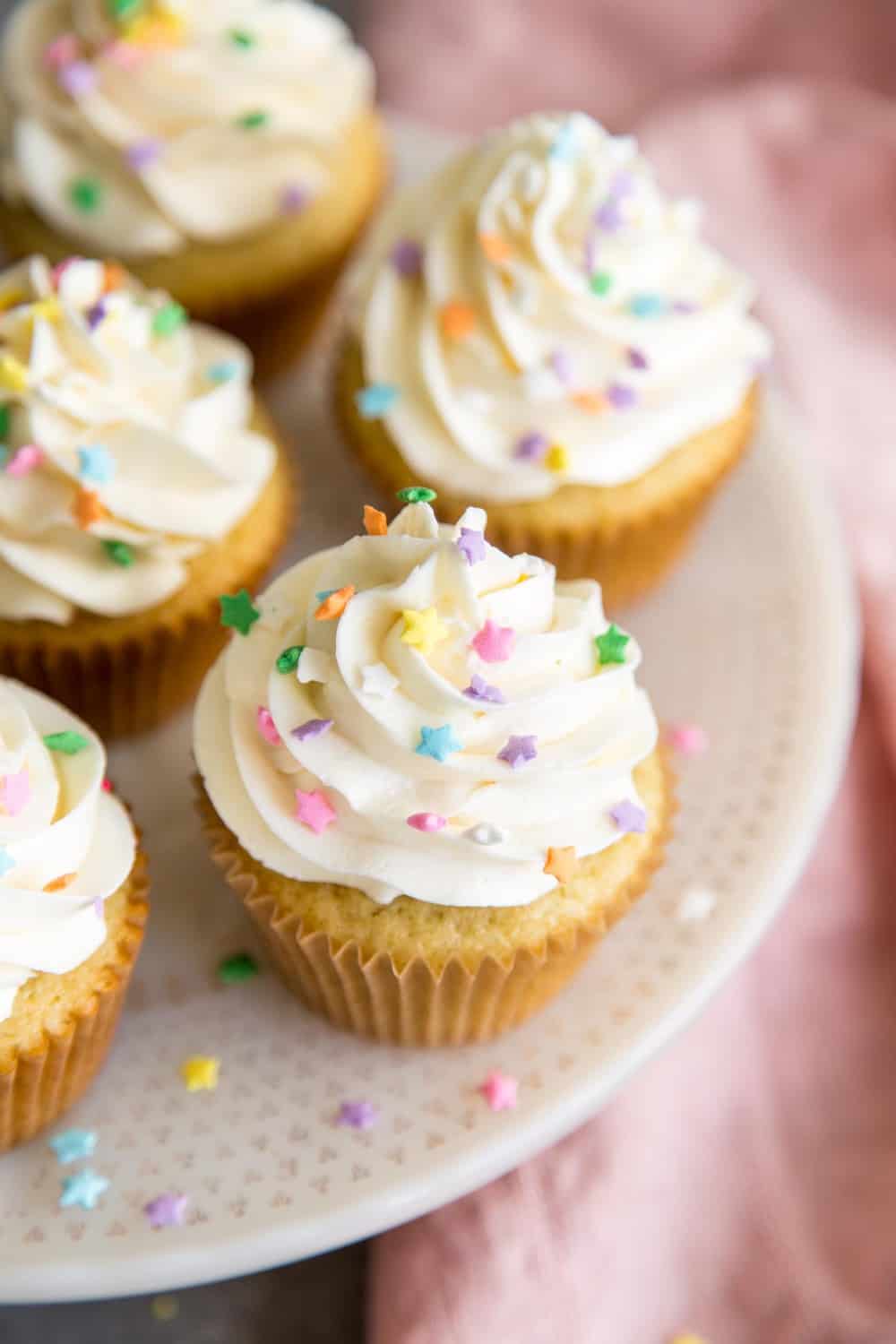 Storing vanilla cupcakes
These cupcakes are best served the same day you make them. They can be kept on the counter top at room temperature for the day. But since they have buttercream frosting, it is best to keep them somewhere dry and cool.
Leftovers should be stored in the refrigerator in an airtight container. Or if you are making them a day or two ahead of time, keep them refrigerated. Take them out of the fridge about 15 minutes before you plan to serve to let the buttercream soften.
Unique cupcake recipes you?ll love!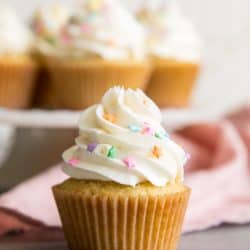 Vanilla Cupcakes
Easy Vanilla Cupcakes with vanilla frosting are such a classic treat for birthdays and perfect for any celebratory occasions. These moist cupcakes with their creamy crown of frosting will surely bring a smile to your face!
Course Dessert
Cuisine American
Keyword vanilla cupcake recipe, vanilla cupcakes
Prep Time 40 minutes
Cook Time 17 minutes
Total Time 57 minutes
Calories 509kcal
Author Trang Doan
Ingredients
Cupcakes
1 1/2 cup all-purpose flour
3/4 cup granulated sugar
1/4 teaspoon kosher salt
1 teaspoon baking powder
1/2 teaspoon baking soda
3/4 cup sour cream room temperature
1/2 cup vegetable oil
1 large egg room temperature
1 tablespoon pure vanilla extract
Frosting
12 oz unsalted butter 3 sticks, room temperature
1 ? cup powdered sugar
6 tablespoon heavy whipping cream
1 ? teaspoon pure vanilla extract
A big pinch of salt
Instructions
Make the cupcakes
Preheat oven to 350?F and line a muffin pan with cupcake liners and set aside.

In a small mixing bowl, sift together flour, sugar, salt, baking powder and baking soda. Stir with a whisk to distribute evenly. Set aside.

Add sour cream, vegetable oil, egg, and vanilla extract to a medium bowl. Beat together with a whisk until smooth. Add the flour mixture to the wet ingredient mixture and fold until just combined.

Use a large ice cream scoop to divide batter evenly into 12 cupcake cavities.

Bake in the middle oven rack for 16-17 minutes until a toothpick inserted in the middle of a cupcake comes out clean with just a few crumbs attached. Remove from the oven and allow to cool to the touch, remove cupcakes from the pan and allow to cool completely on a wire rack.
Make the frosting
Add butter, powdered sugar, cream, vanilla and salt to the stand mixer bowl. Stir to incorporate all the ingredients, then turn the mixer on high speed and beat until the frosting is white and fluffy, about 10-15 minutes.
Assemble the cupcakes
Add a piping tip of your choice to a pastry bag, fill bag with frosting, and pipe frosting on top of the cooled cupcakes.

Garnish with sprinkles if desired.
Nutrition
Calories: 509kcal | Carbohydrates: 40g | Protein: 3g | Fat: 38g | Saturated Fat: 25g | Cholesterol: 92mg | Sodium: 118mg | Potassium: 88mg | Fiber: 1g | Sugar: 28g | Vitamin A: 928IU | Vitamin C: 1mg | Calcium: 46mg | Iron: 1mg