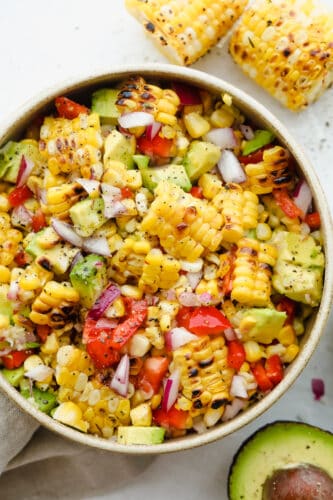 This Summer Corn Salad definitely can (and should be!) enjoyed all year round! It is a fresh corn salad made with onion, bell pepper, avocado, and corn! Fresh or frozen corn will work!
My favorite part of a good summer BBQ is the fresh fruit and amazing side dishes to serve with whatever we're grilling. Some of my favorites include this Pasta, Cornbread, and Pineapple!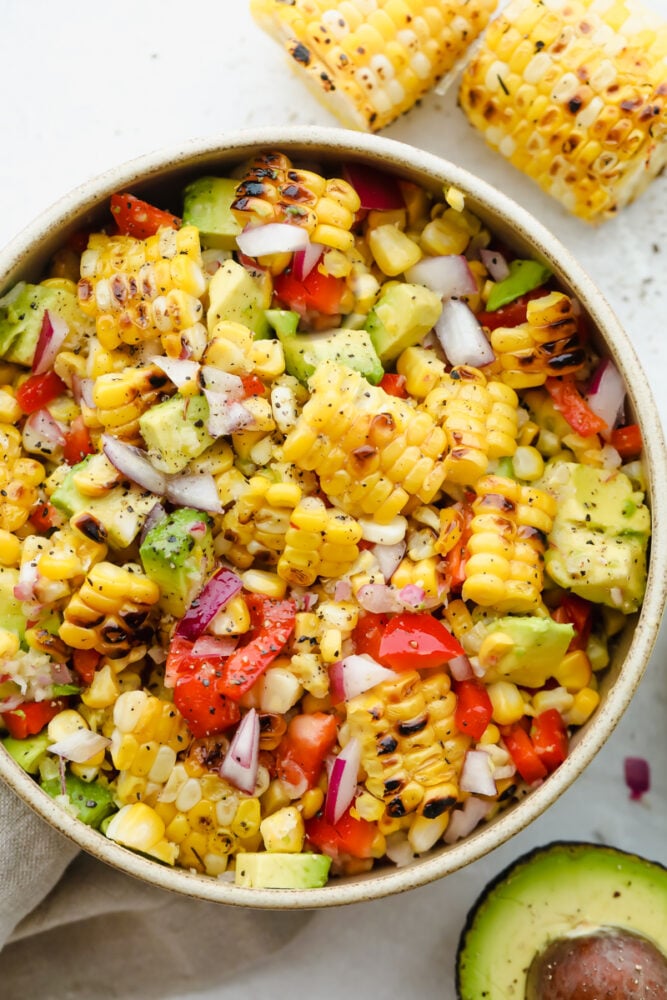 Super Summer Corn Salad
Corn on the cob is one of those foods that just has me feeling all the summer vibes. I love it when I start seeing fresh corn available at the grocery store. it gives me permission to believe that summer is finally here! So, in celebration, I decided a fresh summer salad recipe was the perfect thing to share. This summer corn salad is so light and refreshing, it is the perfect side dish on a hot day or any day! The flavors are amazing and your whole family is going to love this summer corn salad.
Fresh corn season is one of my favorite seasons. I love making Corn Casserole, Mexican Corn, and even this Hot Corn Dip with the fresh stuff. It's absolutely exquisite. Even the frozen corn can taste amazing, but the fresh is just better. The avocado creates a creaminess that blends beautifully with the vinaigrette dressing. This corn salad zippy and good for you! You have to try this impeccable summer corn salad with your family and friends.
Ingredients in Corn Salad
Use fresh ingredients from the store or your local farmers market for a summer taste that is sure to delight! This summer corn salad is so quick and easy to come together you will be making it all summer long. For all the ingredient measurements, see the recipe card below.
Corn: you can use fresh corn on the cob, or frozen corn that has been thawed. If using frozen corn, pat it dry after it has thawed and sauté it with a little bit of oil in a hot skillet, until golden.
Olive oil: Olive oil adds a bit of incredible flavor that keeps everything loose and easier to mix.
Purple onion: Or also known as red onion, it adds a bit of heat and a ton of flavor.
Red bell pepper: This a nice sweet pepper that adds a nice crunch to the salad.
Avocado: Look for ripe avocado that gives just slightly to pressure, but is still firm. Avocado will add creaminess and the best flavor.
Corn Salad Dressing
This corn salad dressing is a the perfect combination to creating the best summertime salad. It is light and fresh with just the sweetness you will love!
Olive oil: A nice mild oil that goes perfectly with vinegar and spice.
Apple cider vinegar: You will love the way the apple cider vinegar adds a bit of tang.
Sugar: This will counter act the vinegar and balance it out, but still leave it yummy.
Dijon mustard: The dijon adds a bit of spice along with the spice of mustard.
Juice from 1 lime: Use fresh lime if you can. It will taste better than the bottle.
Salt and pepper: Add to taste.
How to Make Summer Corn Salad
Super easy, whip this summer corn salad together for a side dish that is sure to impress! It is a side dish that is loved by all ages!
Make the dressing. Whisk together the dressing ingredients. Set aside.
Cook corn. Add 1-2 inches of water to a large skillet and bring it to a boil. Add the corn cobs and cook them for 3-4 minutes, rotating to cook on all sides.
Grill corn. Brush the partially cooked corn cobs lightly with olive oil and grill them on high heat for a few minutes, rotating it as they cook, until golden on all sides.
Toss salad ingredients. Cut the corn off of the cob and add it to a bowl. Add the remaining salad ingredients and drizzle with the desired amount of dressing. Toss to combine.