Air fryer meatballs are tender, juicy, and delicious! They are SOO good and this will be a recipe that your family will want you to make again and again!
If you love meatballs as much as I do then these ones that you make in the air fryer will become your new favorite! In fact, some of my favorite foods are cooked in the air fryer! Try out these Air Fryer Chicken Nuggets, Air Fryer Fried Green Tomatoes, and these amazing Air Fryer Zucchini Pizza Bites!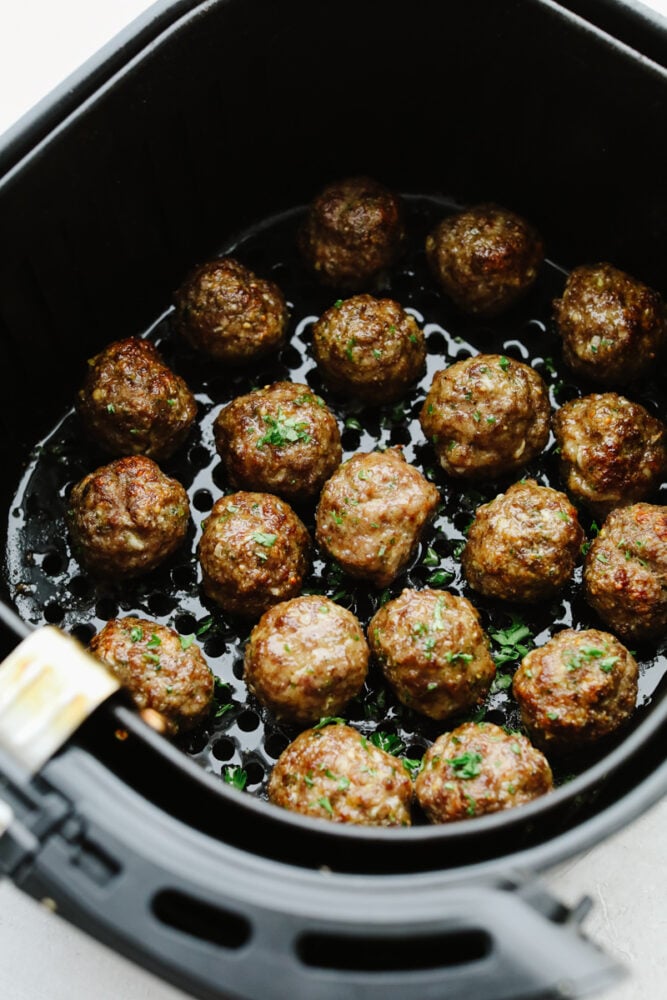 Air Fryer Meatballs are the BEST!
If you haven't tried cooking with an air fryer, you need to start with this recipe! It's so easy and these meatballs turn out perfectly tender, juicy and the taste is to die for! Plus, they only take a few minutes to make! These air fryer meatballs are SOO good on their own but add them to some Stick of Butter Baked Rice or some delicious baked potatoes and a salad and you have yourself a delicious meal!
These make a fantastic entree but don't forget that they can make a super yummy appetizer as well! Put them on a plate and stick a toothpick in each one and your guests will love them! I love how easy cooking with the air fryer is. You mix everything up and then it cooks so fast! And if you have any leftovers, you can use them to make a delicious meatball sandwich for lunch the next day. Go ahead and give these air fryer meatballs a try! They are so versatile, you will love them!
What's in Air Fryer Meatballs?
Made up of common ingredients that you have in your kitchen, these air fryer meatballs are a breeze to make! See the recipe card below for a list of exact ingredient measurements!
Ground beef: I like to get lean ground beef for this recipe!
Onion: Dice up your onion into small, similar sized pieces so that they cook evenly.
Garlic cloves: I used fresh garlic cloves in this recipe but if you only have minced garlic in your fridge, you can use that! ½ tsp equals about 1 clove of garlic.
Parmesan cheese: Freshly grated parmesan cheese will mix up better into the meatballs.
Italian breadcrumbs: Italian breadcrumbs have the perfect blend of seasonings that really add to the delicious taste of these meatballs!
Parsley: You can use fresh or dry parsley!
Salt and pepper: When you add these to the meatballs, they will really enhance the taste of all of the other flavors!
Egg: I like to make sure that my eggs are at room temperature when I use them in recipes. This helps them to blend better!
Milk: You can use 1% or 2% milk for this recipe!
Let's Cook Some Meatballs!
If you have 15-20 minutes, then you have time to make these air fryer meatballs! They only take a few minutes to put together, that's another reason why they are so great!
Combine all ingredients: In a medium sized bowl combine the ground beef, onion, garlic, parmesan cheese, breadcrumbs, parsley, salt, pepper, egg and milk.
Form into balls: Shape into 2 inch sized meatballs. Place in the basket of your air fryer in an even layer.
Cook: Cook at 400 degrees for 10-12 minutes or until cooked throughout.