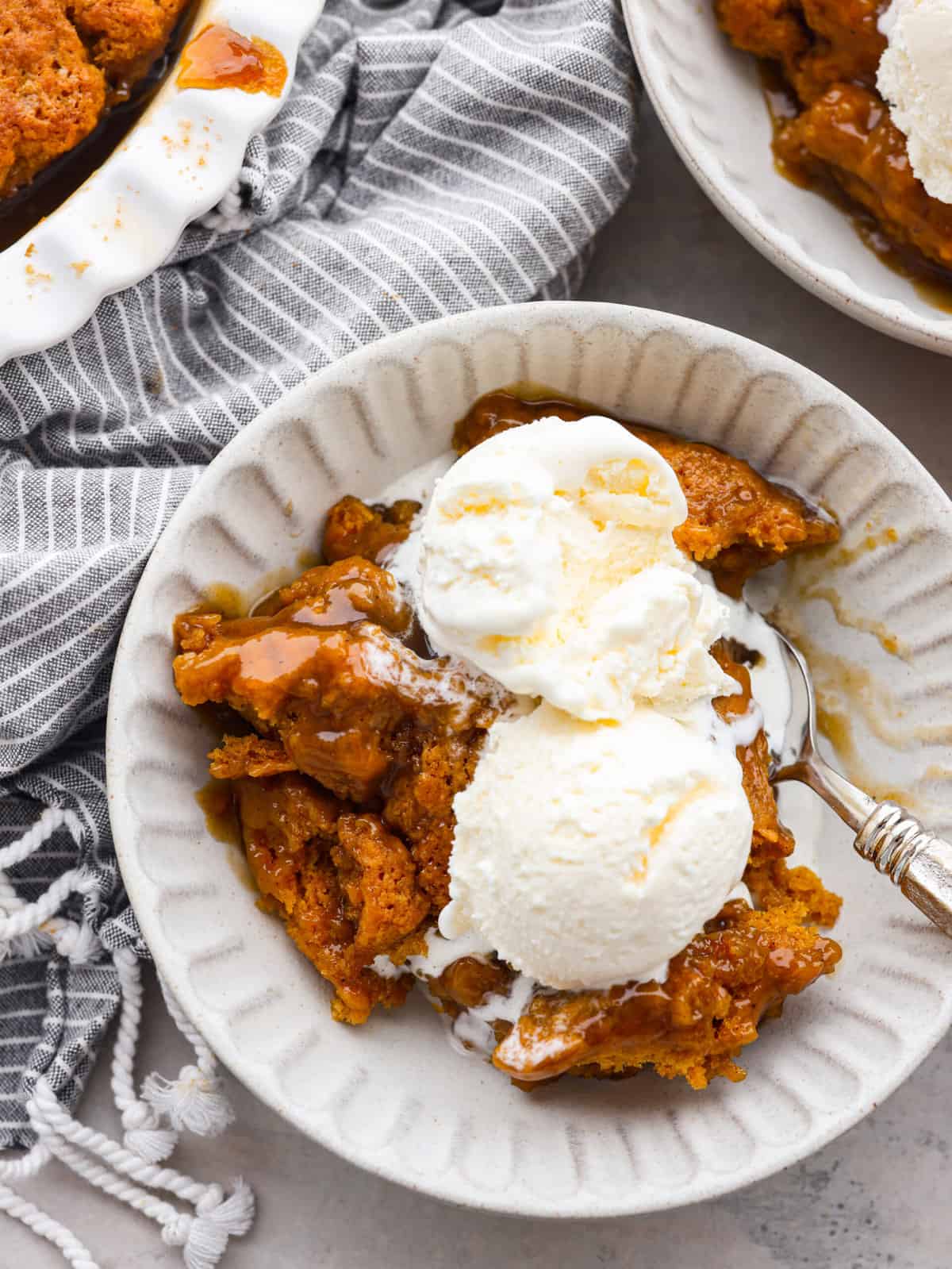 This pumpkin pudding cake is warm, gooey dessert perfection! It's a great finish to any fall or Thanksgiving dinner topped with a scoop of ice cream!
Nothing hits the spot quite like a fall dessert! I can't get enough of the pumpkin, apple, and warm, delicious spices! A few more recipes you've got to try this season (or year-round because they're so good!) are these pumpkin cheesecake snickerdoodles, Dutch caramel apple pie bars, or these insanely delicious pecan pie bars! I know you'll love them all as much as I do.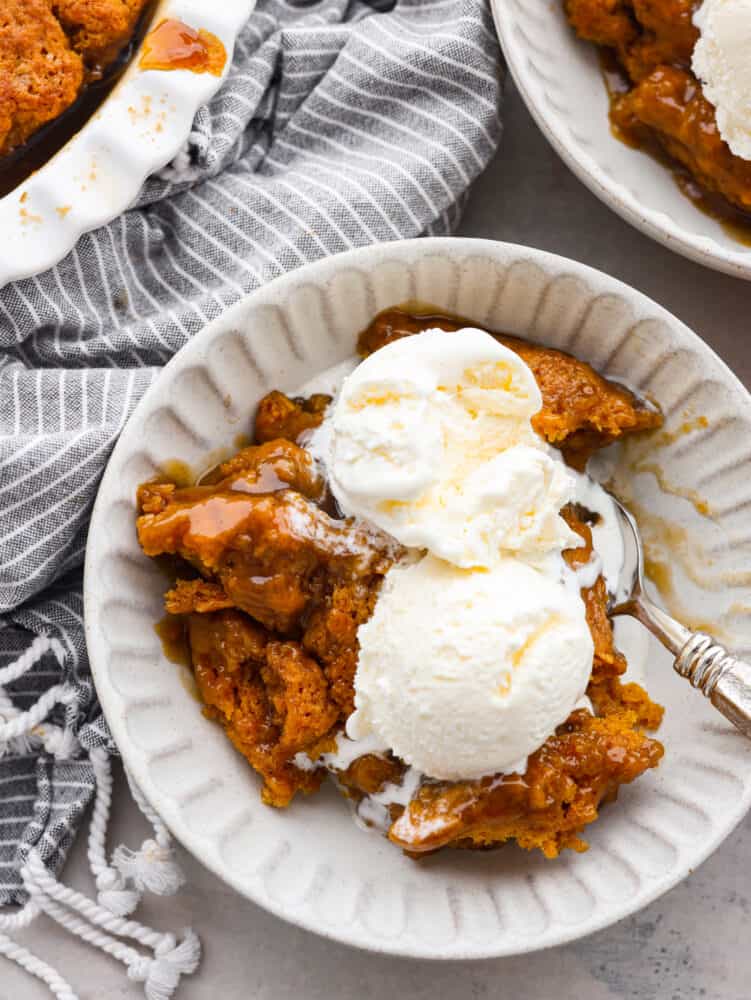 Irresistible Pumpkin Pudding Cake Recipe
This pumpkin pudding cake might just be the only fall dessert you'll ever need. Pudding cakes are some of my all-time favorite desserts. (This lemon pudding cake is a must-try as well!) They're so gooey and warm, and the way that ice cream gets all melty when you serve it up? It's hard to beat. I'll be honest, though, the spiced pumpkin flavor in this particular recipe makes it absolutely to die for. There's rich pumpkin, warm spice, vanilla, and smoky brown sugar in each bite. It's my new favorite!
There are so many fall desserts out there, but this one is guaranteed to get you ooos and aahhs at the Thanksgiving table. It's the perfect mix of pumpkin cake and hot caramel sauce. It takes just minutes to throw together and bakes completely in one pan – which means less work, less mess, and you still reap all the benefits! (Plus, you don't have to tell anyone how easy it actually was to make.) Now, if you're ready to make a dessert that tastes like a warm hug.. let's get started!
Ingredients You'll Need
As long as you've got pumpkin puree on hand, chances are you have everything else needed to make this amazing fall dessert! Be prepared to keep this pumpkin pudding cake on repeat- it's heaven in a pan! If you're looking for measurements, they can all be found below in the recipe card.
Flour: All-purpose or whole wheat flour both work great!
Brown Sugar: Gives your cake a deep, smoky sweetness!
Baking Powder: Helps your pumpkin pudding cake stay light and fluffy.
Spices: I used a mix of cinnamon, nutmeg, and cloves for that essential fall flavor. You can also use pumpkin pie spice!
Salt: Just a pinch will enhance the entire flavor of your cake.
Pumpkin Puree: Be sure you're using pure pumpkin puree and not pie filling! If you want the freshest flavor possible, make your pumpkin puree from scratch!
Milk: I recommend using whole milk here; the high fat content will make your pudding cake perfectly soft and tender.
Oil: Use your favorite cooking oil! This will make your cake nice and moist.
Vanilla Extract: Vanilla adds a boost of sweet, deep flavor. Use pure vanilla extract if you can, it makes such a difference in the overall flavor of your baked goods!
Cornstarch: When combined with brown sugar, this creates a tasty streusel to add on top of your cake.
Hot Water: Used to make the tasty caramel sauce.
Butter: Adds a tasty rich flavor and moisture to your cake!
How to Make Pumpkin Pudding Cake
Once you have all of your ingredients ready, it's time to turn them into the ooey gooey fall treat of your dreams! It's so easy, you're going to be as obsessed with this recipe as I am.
Prep Pan, Preheat Oven: First, preheat your oven to 350 degrees F. Lightly grease a 9″ pie plate or baking dish and set aside.
Mix Dry Ingredients: In a large bowl, stir together the flour, ¾ cup brown sugar, baking powder, cinnamon, salt, nutmeg, and cloves with a spoon.
Add Wet Ingredients: Add in pumpkin, milk, oil, and vanilla and stir until a thick batter forms. Spread evenly into the prepared pie plate.
Prepare Streusel Topping: In a small bowl, stir together 1 cup of brown sugar and corn starch until there are no clumps. Sprinkle over cake batter.
Butter Mixture: Add butter to hot water and stir until melted. Pour over brown sugar mixture in pan.
Bake: Bake for 35-40 minutes until top is completely set (keep in mind that there is a thick layer of caramel sauce in the bottom, so it may jiggle). Let sit for 5-10 minutes before serving.
Serve or Store: Leftovers can be stored in the refrigerator and reheat perfectly!