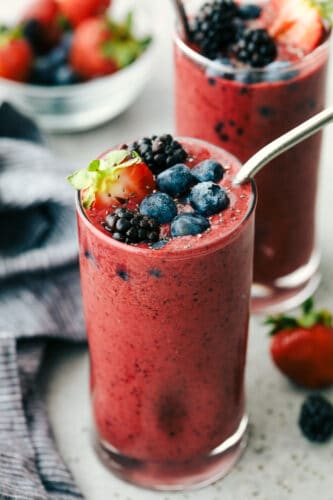 Mixed Berry smoothie is the perfect answer to the need for a quick healthy breakfast or snack. Packed with flavorful fruit, protein-filled Greek yogurt, and honey, it's a family pleaser for sure!
Smoothies are a great way to get in protein and plenty of nutrition. Try these other tried and true recipes when you need a healthy snack, Raspberry Peach, Pina Colada, and Peanut Butter Banana smoothies.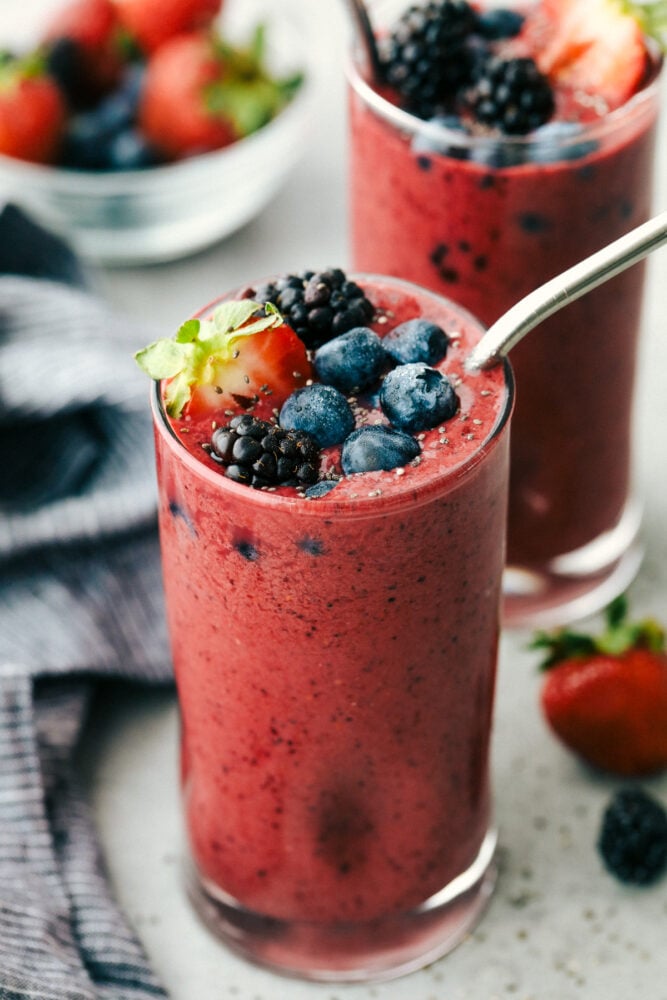 Easy Mixed Berry Smoothie
When you need a quick healthy breakfast or snack, this mixed berry smoothie is the perfect answer. Berries are naturally sweet and full of vitamins and fiber. Paired with protein-packed Greek yogurt is the ideal addition. It creates a sweet, filling smoothie that is healthy but tastes like you are drinking a berry shake. This is a sneaky way to get your kids to get more fruit into their diets. They think they are getting a dessert-like snack, but really it's a healthy mixed berry smoothie. It is the best little deception!
The best part about this mixed berry smoothie is that it is so refreshing! Perfect for an after-workout drink, or to help wake you up in the morning. Drink this smoothie with a few eggs, bacon, or some banana bread for one of the best breakfasts ever. Smoothies, however, or whenever you serve them are a great way to help your family and loved ones eat healthier.
What you Need for a Berry Smoothie
Simple ingredients thrown together in the blender will only take minutes with this mixed berry smoothie. Then you you can be sipping on a tall class of deliciousness within minutes.
Mixed berries: Use fresh or frozen berries. Either will work perfectly.
Ice: This will bring the coldness you'll love.
Greek yogurt: Greek yogurt adds protein and creaminess to your smoothie.
Honey: Sweet, sweet honey makes everything taste better.
Apple juice: Using apple juice add extra vitamins and sweetness without extra sugar.
How to Make a Mixed Berry Smoothie
Okay, this mixed berry smoothie could not be any easier! Do not worry if you do not have a fancy blender, any good blender will do. In a blender add the berries, ice, greek yogurt, honey, and apple juice. Blend until smooth. If you need to stop and scrape the sides that will help too. It is so simple and delicious!