Meatloaf Sandwiches are the best combination meals with all your favorite toppings! They are juicy, full of flavor and perfect for lunch or dinner!
Serve these incredible tasting sandwiches with some fun sides and you got a meal everyone will love! Try Salad, Hush Puppies, and French Fries.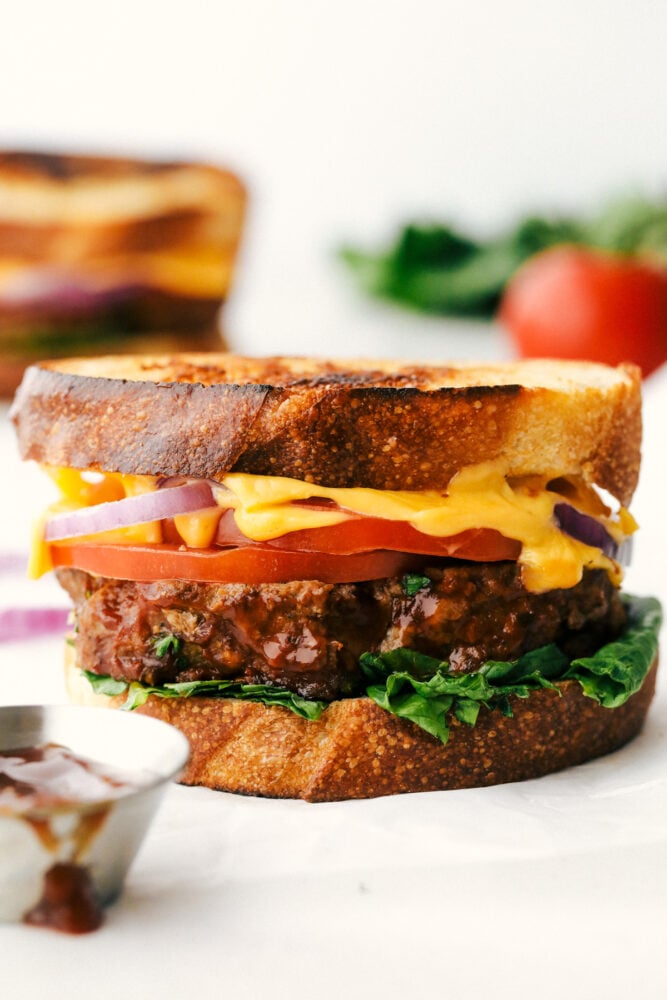 Best Meatloaf Sandwich
This classic comfort food is tender, juicy, and packed with flavor. There is just something about a meatloaf sandwich that can take you back to the good old days, and make everything seem right with the world. Let's face it we make meatloaf so we can have leftovers. Meatloaf is better the second day anyway, and I cannot think of a better way to eat them in this luscious sandwich. Oh, and this is not a cold meatloaf sandwich for the past, this is hot and heavenly!
Start with a meatloaf that is perfectly seasoned and baked to perfection and you cannot go wrong. You can use either this incredible instant pot recipe or this glazed meatloaf recipe and the sandwich will be destined for greatness. Pan grilling it will not only warm it up but give it a nice crust to the meatloaf that elevates your sandwich to the next level. You and your family are going to love this!
Ingredients For Leftover Meatloaf Sandwich
Start with your leftover meatloaf and go from there. Topping options are customizable and delicious.
Meatloaf: Of course we are using leftover meatloaf here. Either this incredible instant pot recipe or this Glazed Meatloaf will work.
Butter: Softened so it is spreadable on the bread.
Bread: I used crusty French bread for a crunchy, chewy texture.
Optional Toppings
Have your meatloaf sandwich plain or add to it with these fun toppings to spruce it up a bit. The toppings are optional and endless!
Lettuce
Tomato
Cheese
Sliced Red Onion
Let's Make Your Sandwich!
This is as easy as a grilled cheese sandwich, only upscaled! It is simple to use leftover meatloaf then add your toppings and cook together for the perfect meatloaf sandwich!
Make the Meatloaf ahead of time: Using the leftover meatloaf slices, add to a medium-sized skillet.
Prepare Bread: Brush the side of the bread with butter and place facing down in the skillet. Top on side of the slice with cheese. Heat until melted and meatloaf is heated through.
Create Your Sandwich! Assemble sandwich with desired toppings.