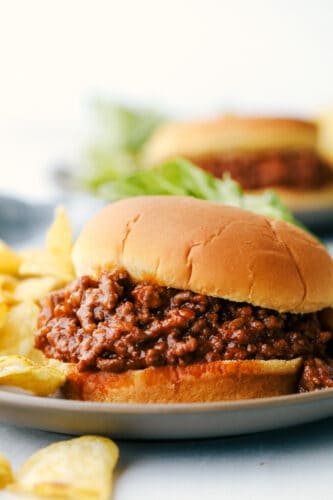 Sloppy Joes are messy, saucy and the perfect family dinner. A timeless classic, these are bound to be the best you have ever had!
These sandwiches are just yummy and easy to customize. If you are looking for a twist on the classic try Hawaiian, Greek, and a personal favorite Philly Cheesesteak Sloppy Joes.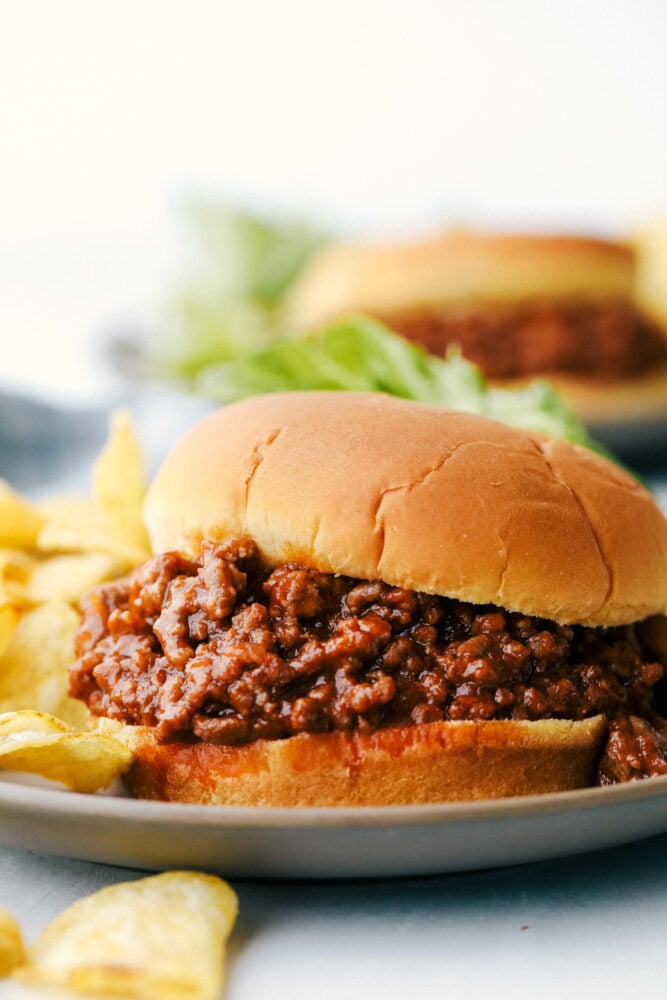 Delicious Sloppy Joe Recipe
I once had a conversation with my family about why Sloppy Joes were called Sloppy Joes and not something like messy bobs? Well it turns out that when your name is Joe and you invented this family favorite, you get to name it after yourself if you want. That is what Joe from Sioux City, Iowa did when he mixed tomato sauce and seasonings with his hamburger and served it on a bun.
These sloppy joes became popular, so popular that a company canned the stuff and called it Manwich. Also known as Maid-Rites, Yip Yips, and Loose Meat Sandwiches these sloppy joes have variations and traditions that vary all over the country. This homemade sloppy Joe recipe is the best classic recipe you will find and it tastes way better than anything in a can! These easy sloppy joes come together quickly with ingredients you probably already have in your pantry. So get out some extra napkins and have a fun, tasty meal tonight with these delicious sloppy joes!
Ingredients You Need For Sloppy Joe Sauce
Homemade sloppy joes comes together in about 20 minutes with ingredients right in your pantry. It is quick and easy to make and a family favorite!
Olive oil: For sauteing the onions and cooking the beef.
Onion: finely chopped.
Ground beef: Use lean ground beef for less fat.
Garlic: Mince the garlic finely.
Ketchup: Adds the tangy sauce.
Brown sugar: Adds a bit of sweetness and caramelization.
Chili powder: Brings the heat to balance the sweet.
Paprika: Adds a kick of flavor that can be a bit hot. Limit this if needed.
Worcestershire sauce: The perfect savory umami flavor
Salt and pepper: Add to your tastes.
Buns: Good sturdy buns work best or you can make your own!
How To Make Easy Sloppy Joes
Quick and Easy this is a great dish for busy week day or a lazy weekend! Sloppy joes are irresistible and all ages love them!
Sauté: In a medium-sized skillet add the olive oil and onion over medium-high heat. Sauté until almost tender and add the ground beef and cook and crumble until no longer pink.
Seasonings: Add the garlic, ketchup, brown sugar, chili powder, paprika, Worcestershire sauce salt, and pepper. Let simmer for 2-3 minutes.
Enjoy: Serve on buns.