Shamrock Shake is a?minty-vanilla ice cream shake is such a fun treat for all ages! Skip the line and make your own at home!
This fun, green shake is the perfect cold treat to celebrate St. Patricks Day. But unlike it?s fast food namesake, this homemade version can be made year round! You can also make some swaps like using this homemade KETO ice cream with coconut for a flavorful, low carb twist. Serve this shake after a meal of Slow Cooker Corned Beef and Cabbage Stew or these Stuffed Cabbage Rolls for a festive meal!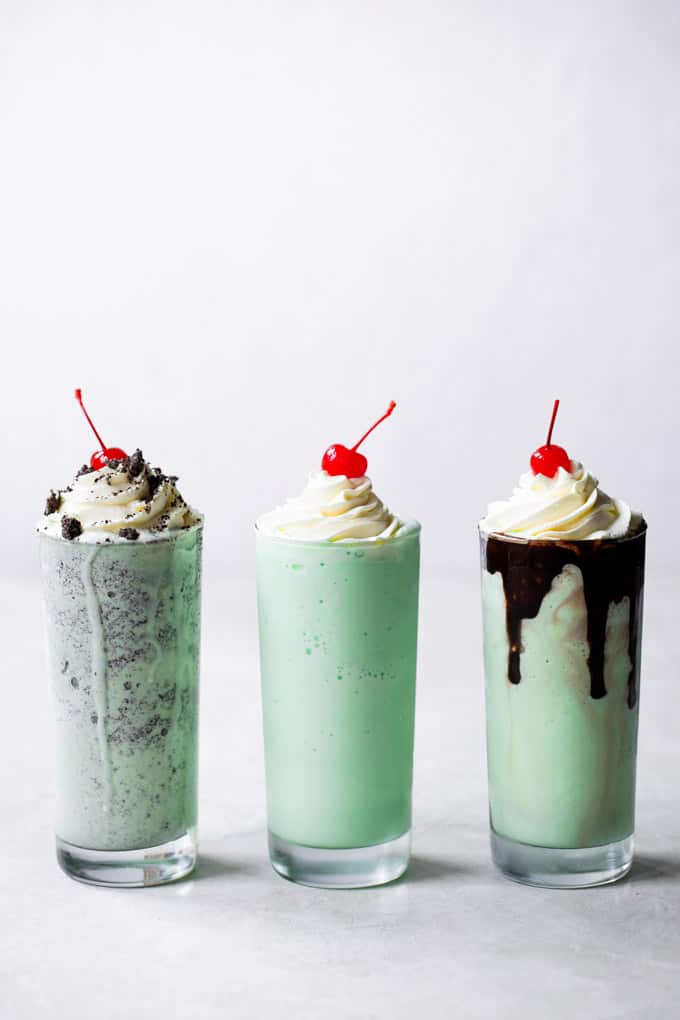 Shamrock Shake
These green mint milkshakes just radiate happiness and cheer. They bring a smile to the entire family! They?re such a fun treat: cold, creamy, and bursting with a minty freshness.?The combination of?mint and vanilla are more pronounced by the bright green coloring. And of course, these fun treats are topped with some homemade whipped cream and that juicy cherry on top. My entire family loves these shakes and since we can make them at home, they can be enjoyed year round!
How to Make a Shamrock Shake:
Scoop the ice cream into the blender. I find that about 2 large scoops equals about 1 cup, which makes it easier for scooping into the blender.
Pour in the milk. Start with a bit less. It?s easier to add more if needed once blended.
Add the mint extract and green food coloring.
Blend until smooth and creamy. Add more milk or ice cream to get desired consistency.

Fun Variations:
This easy to make mint shake is also easy to customize! Add a swirl of chocolate to the cup before pouring to create a colorful swirl and a chocolate mint flavor. Or add some crushed up chocolate cookies for a textured treat.
To make the cup look pretty with the chocolate drips, squeeze some chocolate syrup along the rim of the cup on the inside. Gently tilt the cup slightly to help drips run down. Place the cup in?the refrigerator to chill while you prepare and make the shakes.
To add cookie crumbs to the shake, add several cookies to a plastic bag and crush with a rolling pin. After blending the milkshake stir the cookie crumbs into the shake. If you add the cookie to the blender before blending, then the cookie crumbs become too fine and blend in with the shake instead of giving you the appearance of cookie crumbs.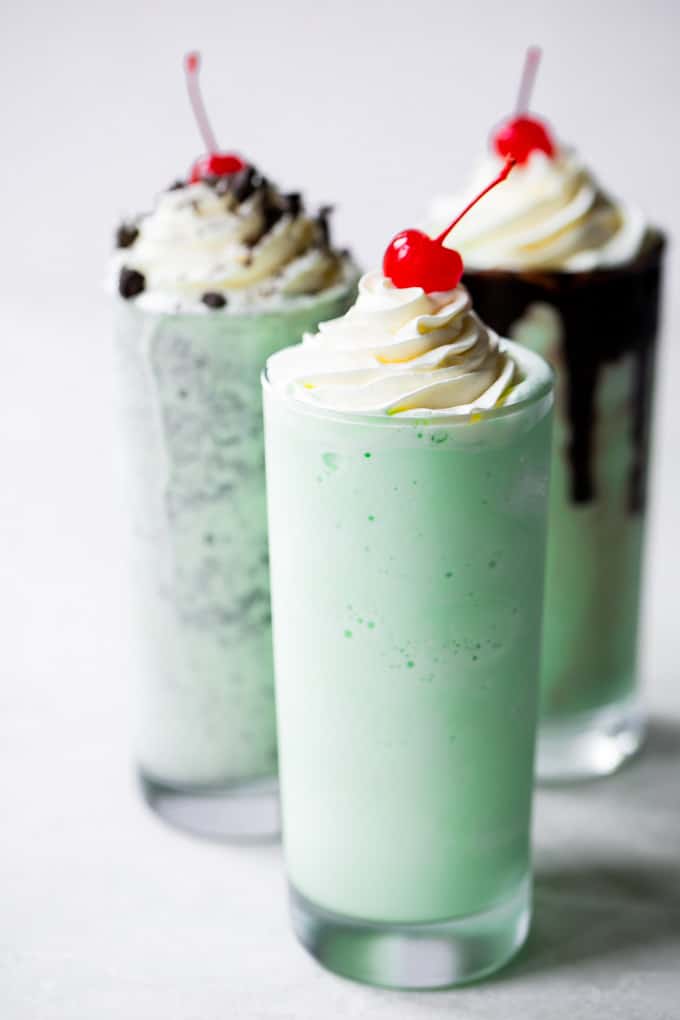 Important Tips!?
Mint Extract vs. Peppermint Extract: keep in mind these are different flavors. Using peppermint extract would result in a shake that has more of a candy cane flavoring than a minty Shamrock shake taste.
Whole milk: using whole milk in this recipe will result in a creamier shake. Of course, you can always sub with your milk of choice.
Start with less milk: it?s easier to pour in extra milk once you blend the shake. Too much milk will make the shake runny. You can always add more ice cream or milk as needed to get the desired consistency.
Green Food Coloring: this is an optional ingredient. It?s not required, and if you don?t want to add it, it can easily be left out.
Other Recipes You May Enjoy:
Shamrock Shakes
Shamrock Shake. This minty-vanilla ice cream shake is such a fun treat for all ages! Skip the line and make your own at home!
Course Dessert
Cuisine American
Keyword mint milkshake, shamrock shake
Prep Time 5 minutes
Total Time 5 minutes
Calories 243kcal
Author Serene Herrera
Ingredients
3 cups vanilla ice cream
1 cup milk whole
1/4 teaspoon mint extract
6 drops green food coloring
Toppings/Add-ins
whipped cream
maraschino cherries
chocolate cookies crushed
Instructions
Scoop the ice cream into the blender.

Pour in the milk, add the mint extract and green food coloring.

Blend until smooth and creamy.

Add more milk or more ice cream to get desired consistency.

Top with whipped cream and cherries as desired.
Notes
Cookie Shamrock Shake: after blending add in the crumbled cookies and stir. Use 8 cookies for the full amount of milkshake in the recipe. Additional if you want to sprinkle some on top.
Nutrition
Serving: 1g | Calories: 243kcal | Carbohydrates: 26g | Protein: 5g | Fat: 13g | Saturated Fat: 8g | Cholesterol: 50mg | Sodium: 105mg | Potassium: 278mg | Fiber: 1g | Sugar: 24g | Vitamin A: 516IU | Vitamin C: 1mg | Calcium: 196mg | Iron: 1mg