These homemade Reese's eggs are the perfect combination of creamy peanut butter center with a thick, rich chocolate covering making these the best Easter dessert! With only a handful of ingredients these chocolate eggs can be made quickly and easily even with the help of kids!
Loved how easy these were and they tasted just like the real thing! Because all of my family loves Reese's eggs, we will definitely be making these again!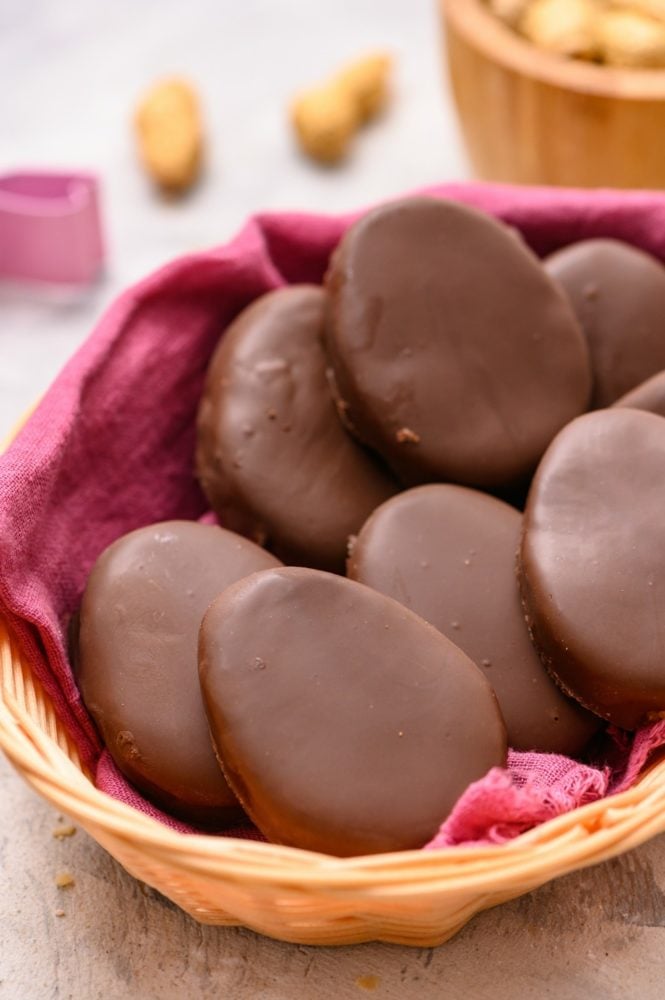 Homemade Reese's Eggs
This is my favorite Easter treat ever.! So when I found this recipe I had to try making my own. These homemade Reeses peanut butter eggs are so easy, and in my families opinion, they tasted better! My boys said they liked that they weren't oily like the ones in the package. These are so easy, delicious and fun for Easter… or anytime of the year if you are a Reese's lover like me!
What are Reese's Eggs?
Well, to put it into an eggshell, these eggs are the perfect combination of two favorites, peanut butter and chocolate. Made into the traditional egg shape these treats are a popular commodity for the easter season. Whether you are choosing to have them at room temperature or choose to store them in the fridge and have them chilled, these are an eggcellent treat!
What do you need to make Reese's Eggs?
It's all in the ingredients. The key to making the richest dessert goes to what you are putting in it. Being mindful of using the exact ingredients the recipe calls for and following the measurements will make a world of difference when it comes to tasting your final product. Each one of these ingredients plays a vital role in completing the perfect Reese's peanut butter egg recipe.
Powdered sugar:

this helps achieve the desired consistency

Creamy peanut butter:

to all the crunch lovers out there you could choose to switch it up with a bit of your crunchy peanut butter

Butter or margarine melted:

make sure when melting that it is not super hot, when combining it could cause the mixture to not hold a thick consistency

Milk:

can use almond milk as a substitute if needed

Milk chocolate chips: make sure you use milk as opposed to semi sweet, you will taste a difference

Shortening: this is a necessity when melting the chocolate to help keep it from burning
How to make Reese's Eggs:
Oftentimes when people try something that is so good they immediately think that the recipe is going to be super intricate or complicated. Well let me share a little secret with you, this is by far one of the simplest and tastiest desserts you have yet to make. With these simple steps you will be whipping up dozens of these in no time. And a good thing too because they seem to disappear just as quickly as they are made!
Start by beating powdered sugar, peanut butter, and butter all together. At this point the dough will be crumbly. Add two tablespoons of milk and continue to beat together until the dough softens. If the dough still seems crumbly that is ok.

On a floured surface, roll the dough out to desired thickness. About 1/2 thickness. You can use egg cookie cutters or with a knife, shape the dough to look like eggs.

Place eggs on a cookie sheet and put in the freezer for an hour.

When you are ready to dip them, add the chocolate and 1 Tbsp shortening in a microwave and melt 30 seconds at a time. Stirring it after every 30 seconds and being careful not to cook the chocolate to burn.

Dip each egg in chocolate. I used a spoon to help cover in the chocolate. Place them on wax paper to set.

If more chocolate is needed, melt the second bag with the shortening. Enjoy!
Are Reese's Eggs gluten free?
The homemade chocolate Reese's eggs are considered a gluten free treat. All the regular ingredients can be used with no substitutions. It is only fair that something as good as these can be tasted by even those on special diets.
Do Reese's Eggs have dairy?
There are ingredients included that do have dairy in them. Some substitutions can be made such as using a lactose version of milk, soy or almond milk to help if looking for ways to include minimal amounts of dairy.
How many Reese's Eggs does this recipe yield?
This recipe makes about 20 chocolate Reese's eggs. As far as the serving size gos, let's just say my batches do not carry many servings. You will understand for yourself very soon.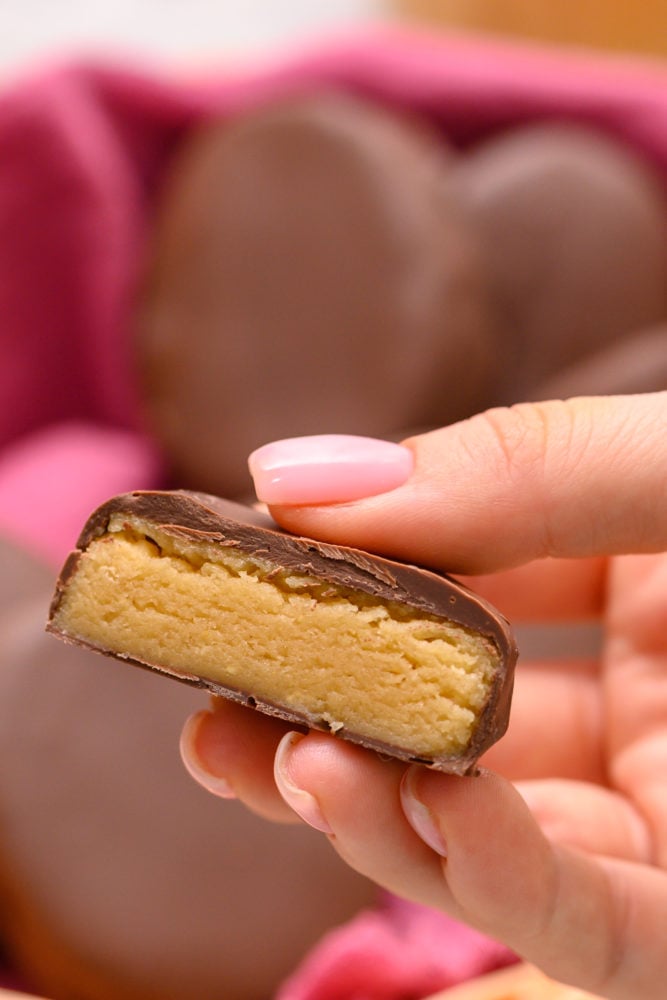 What's the big deal with Reese's Eggs?
The delicious taste of this dessert is enough to sell me on why I should constantly crave and make them. These eggs are fairly quick and easy to whip up if you need to bring a dessert to a party, put together a spread of refreshments, or are even perfect for a fun family night activity together. They have a very rewarding taste for minimal time going into them.
These are very popular around Springtime but one of the great things about them is that this recipe can be used year round. For example, for Valentines simply switch out the egg shaped cutter and use a heart shaped one instead to create beautiful and delicious Reese's hearts for your loved ones. Or even for Halloween you can use a pumpkin shaped cutter, for Christmas a candy cane and so on. The possibilities are tasty and endless.
Are there different substitutions that can be made with Reese's Eggs?
One of the most popular variations of this recipe is instead of making them with milk chocolate, using white chocolate instead. These taste just as good for all my white chocolate lovers out there! It can also be fun to make a batch of both and give some variation to them when at parties, etc. Click here for a step by step recipe using white chocolate.
Try More of these Reese's Type Treats: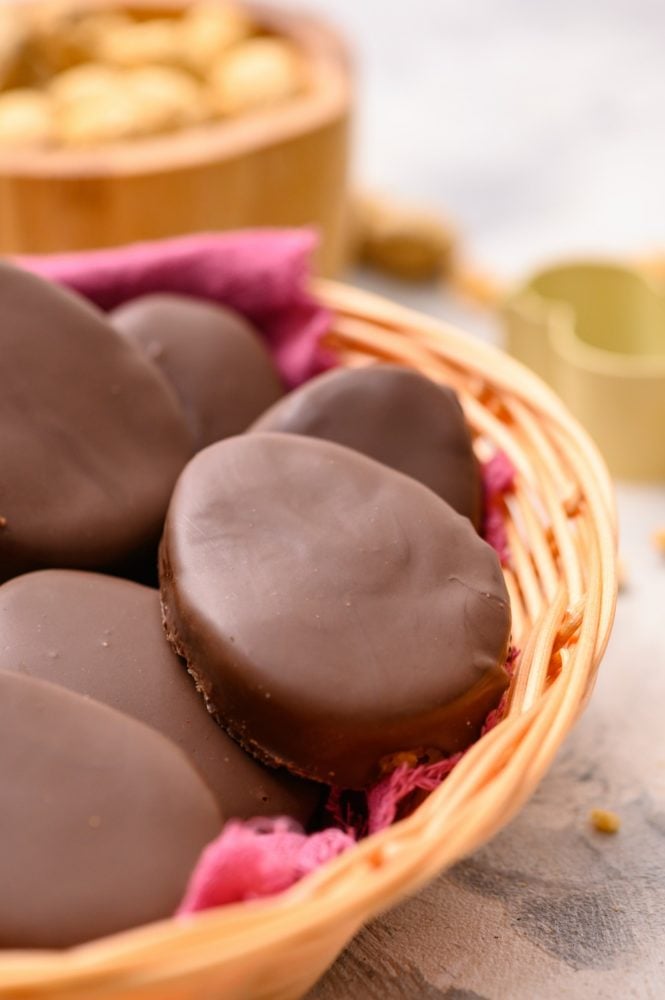 Homemade Reese's Eggs
These homemade Reese's eggs are the perfect combination of creamy peanut butter center with a thick, rich chocolate covering making these the best Easter dessert! With only a handful of ingredients these chocolate eggs can be made quickly and easily even with the help of kids!
Keyword
peanut butter and chocolate eggs, reeses eggs
Equipment
Nordic Wave Baking Sheet

Utopia Kitchen Cooking Knives

KitchenAid Hand Blender
Ingredients
3

Cups

powdered sugar

1 1/2

cups

creamy peanut butter

1/4

cup

butter or margarine melted

2

Tablespoons

milk

1-2

bags

milk chocolate chips

2

Tablespoons

shortening
Instructions
Beat together powdered sugar, peanut butter, and butter together. At this point the dough will be crumbly. Add two tablespoons of milk and continue to beat together until the dough softens. If the dough still seems crumbly that is ok.

On a floured surface, roll the dough out to desired thickness. About 1/2 thickness. You can use egg cookie cutters or with a knife, shape the dough to look like eggs.

Place eggs on a cookie sheet and put in the freezer for an hour.

When you are ready to dip them, add the chocolate and 1 Tbsp shortening in a microwave and melt 30 seconds at a time. Stirring it after every 30 seconds and being careful not to cook the chocolate to burn.

Dip each egg in chocolate. I used a spoon to help cover in the chocolate. Place them on wax paper to set.

If more chocolate is needed, melt the second bag with the shortening. Enjoy!

*Makes approx. 20 eggs
Notes
Updated on March 21, 2020
Originally Posted on March 27, 2013
Nutrition
Calories:
302
kcal
|
Carbohydrates:
33
g
|
Protein:
6
g
|
Fat:
17
g
|
Saturated Fat:
6
g
|
Cholesterol:
9
mg
|
Sodium:
122
mg
|
Potassium:
128
mg
|
Fiber:
2
g
|
Sugar:
30
g
|
Vitamin A:
109
IU
|
Vitamin C:
1
mg
|
Calcium:
30
mg
|
Iron:
1
mg