Grilled Teriyaki Chicken is the ultimate quick and easy, absolutely delicious dinner! Tender juicy chicken is soaked in the BEST Teriyaki Sauce then grilled to perfection!
It is grilling season and nothing tastes better on a warm summer day. Try these grilled recipes for your next BBQ, Steak, Asparagus, or Shrimp.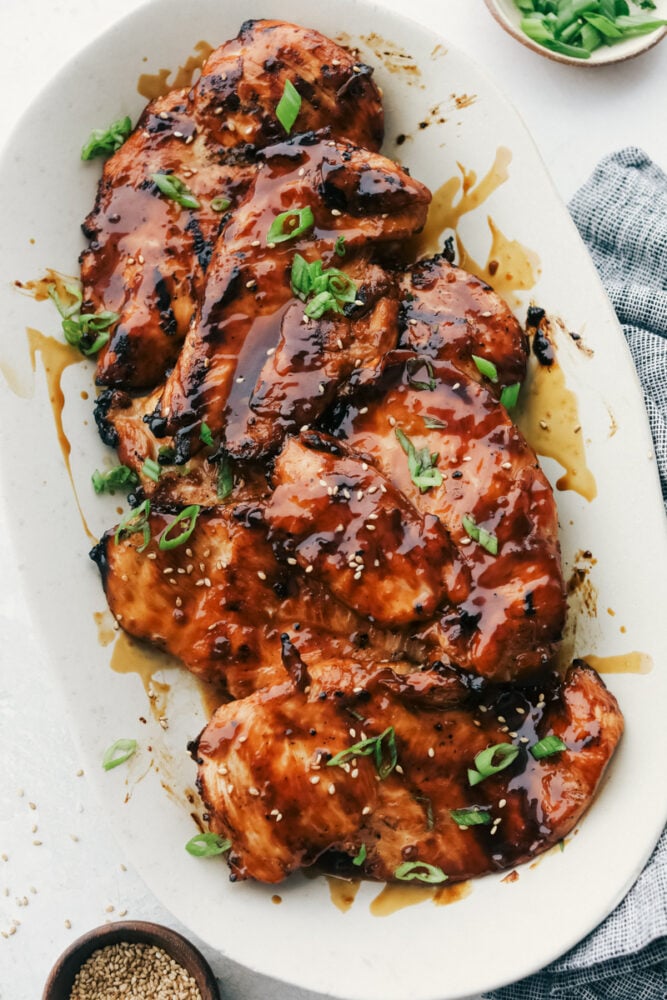 Teriyaki Chicken Recipe
This is one of the easiest most tasty dinners ever! The homemade teriyaki sauce is absolutely to die for, and super simple to make with this chicken. Let the chicken sit in the marinade for as long as possible but not longer than 24 hours or it can start to break down the chicken. I try to always do a few hours, so plan ahead. The teriyaki sauce with its sweet and savory flavors is a favorite flavor and soaks into the chicken leaving it juicy and amazing every time!
Grilling can seem intimidating but it couldn't be easier. Remember to heat the grill and clean it off before grilling. You do not want leftover food from your last grilling party to taint your chicken. Also don't forget to oil your grill! Super important, so that the chicken doesn't stick and rip when flipping. Use tongs to hold a wad of paper towels that have been dipped in some oil to grease your hot grill grates. This is one of my family's favorites and I know it will be yours too!
Ingredients for Teriyaki Chicken
Let the chicken marinate for at least 30 minutes and up to 24 hours.
Boneless skinless chicken breasts: For best flavor and grilling use fresh over frozen chicken breasts.
Homemade Teriyaki: You can use your favorite bottled or you can make this out of this world homemade Teriyaki Sauce
Green onions and sesame seeds for garnish: These are optional but they add both flavor and color.
How to Make Grilled Teriyaki Chicken
Marinated: In a medium-sized bowl add the chicken breasts. Add the prepared teriyaki sauce reserving ¼ cup.
Grill: Preheat your grill to high heat. Add the chicken to the grill and cook on each side for 3-4 minutes or until cooked through and no longer pink.
Cover and Enjoy: Baste the chicken with reserved glaze and put it on a plate and serve.