Chili Cheese Dogs are like no other hot dog you have ever had! These are fast, easy and insanely delicious.
When you are cooking for a crowd this is the way to go! Serve these dogs with Beans, Corn, and Potato Salad for a picnic dinner winner!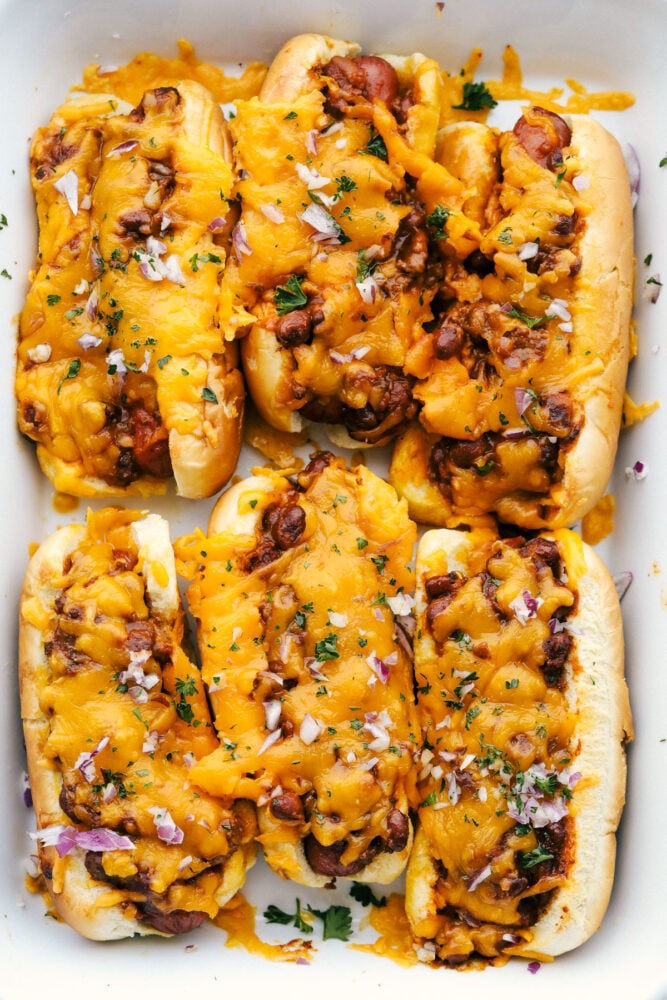 Chili Cheese Dog Bake
These baked chili cheese dogs are going to rock your potluck, game day world! It is the best way to get a whole bunch of savory, delectable chili dogs done at once and done to perfection! Baking them creates a toasty bun that holds up to the chunky chili. The melty gooey cheese holds it all together. You are going to love how easy these chili cheese dogs are, and everyone is going to love how scrumptious they are!
These will take you back to the good old days for sure! Chili dogs are almost like a comfort food. They are savory, salty, super cheesy and completely soul satisfying. Baking the Chili dogs makes it easy to get them done all at once at the same time. Everyone can eat together at the same time. Unfortunately chili cheese dogs do not save well so I highly recommend only cooking what you need. They are so quick and easy you can bake more in jiffy you need them. You have to try these!
What You Need for Chili Cheese Dogs
Create your favorite hot dogs, buns and toppings to make these chili cheese dogs that your whole family is going to love.
Hot Dog Buns: Use a hearty bun to help hold up to the chili.
Hot Dogs: As always have your favorite hot dogs on hand so you can have these at a minute's notice.
Chili: Use your favorite canned chili or make this best-ever chili!
Shredded cheddar cheese: Shred your own cheese.
Optional Toppings: Chopped Red Onions and Chopped Parsley
Making Baked Chili Cheese Dogs
Use a 9×13 pan with sides to help brace the buns up so they do not fall over.
Prep: Preheat oven to 350 degrees. In a 9×13 inch baking dish add the hot dogs. Put the hot dogs into the bun.
Top Them: Evenly top with the chili and shredded cheddar cheese.
Bake: Bake for 20-25 minutes until cheese is melted and heated through. Top with optional toppings.