This Amazing Mexican Corn Salad is hands down an all time summer favorite. Full of fresh, bright, zingy and spicy flavors, it has something for everyone!
I love when corn shows up at the local farmers' market and grocery stores, it means summer is official. Corn is super sweet and adds so much to your meals, try it in this Casserole, Salad, and Corn.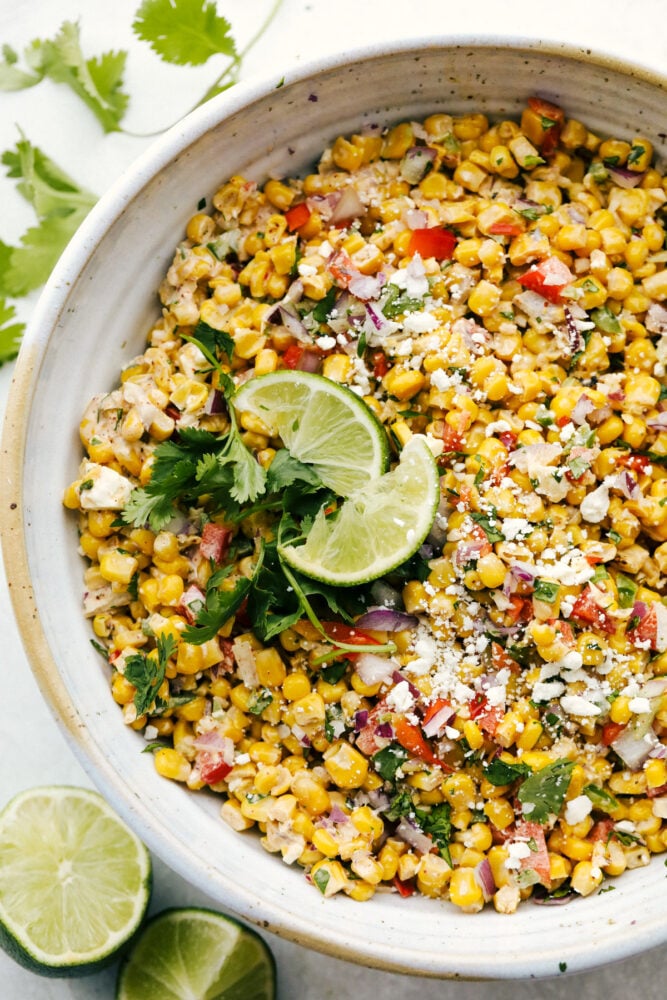 Mexican Street Corn Salad
Crunchy, sweet, spicy and a bit salty, this Mexican salad is incredible. It is the perfect combination of flavors and it is positively addictive. You and are family are going to love this Mexican corn salad recipe. It's easy and quick and a great salad for potlucks, BBQ's and family dinners. With all the fresh ingredients it is going to fly off the table. Perfectly spiced, the chili powder is just enough heat to make it amazing. The cotija cheese adds a creaminess and saltiness that compliments the onions and peppers.
The wonderful thing about a corn salad like this is you can customize it to your spice level. Leave in the seeds of the jalapeno if you desire. Add a bit more chili powder, or add an extra handful of cilantro. The cilantro brings a freshness that is impeccable with the vegetables. Serve this side dish with a big bowl of watermelon, chips and salsa and your favorite main dish and you have a dinner fit for a fiesta any day of the week!
What You Need For Corn Salad
Filled with fresh, full flavored ingredients, you are going to love the way this tastes. Mexican corn salad is the perfect combination and so delicious!
Corn: I used fire-roasted
Red bell pepper: diced
Jalapeño: seeded and diced
Red Onion: diced
Cilantro: chopped
Cotija cheese: crumbled
Mayonnaise:Full fat or low fat work.
Chili Powder:Adds the heat
Paprika: Adds color and flavor
Half a Lime: Use a fresh lime for the best flavor.
How to Make Mexican Corn Salad
Zingy and bright this corn salad comes together quickly which makes it a favorite. All you need are a few pantry ingredients to make this the perfect side dish!
Combine: In a large bowl combine the corn, bell pepper, jalapeño, red onion, and cilantro.
Dressing: In a small bowl combine the mayonnaise, chili powder, paprika, and juice of one lime. Add to the bowl and combine the ingredients.
Serve: Garnish with additional cilantro and cotija cheese if desired.